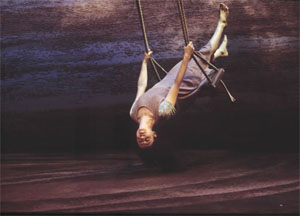 For over 100 years, actors, dancers, singers, and musicians have used the Alexander Technique in order to be more effective on stage. Benefits to be gained include release of restrictions, increased coordination, effortless movement, fuller capacity of breath, improvement of the use of the voice and speech, increased tone in the musculature, and a stronger sense of presence. Stella Adler concluded that, "Every actor plays from his own body. The Alexander Technique gives you the control over your body so your body can express the character which is the most important aspect of interpretation."
The much awaited book based on his acting and teaching experience, "The Intent to Live" is a must for all actors and anyone interested in the theatre. Larry offers in a very generous and creative way a necessary education which is badly lacking in our young actors today. To quote Larry "Sometimes we feel we have a gift to give that no one can see because we don't have the tools or the confidence to reveal it. Sometimes we have a raw talent that comes out every now and then, maybe even brilliantly, but because we lack technique we don't know how to consistently give the gift to its greatest effect." Inspired acting education and love for the theatre is at the heart of this book and we recommend it wholeheartedly.
"My colleague Kelly McEvenue has written a new book about the Alexander Technique in relation to acting and performance.  I highly recommend this book to all actors and directors interested in improving the quality of their work".
— Jean-Louis Rodrigue
Related Articles:
Major Study published in The British Medical Journal finds The Alexander Technique most effective at reducing back pain.
The New York Times article about Jean-Louis Rodrigue, Dec 16, 2001
Preparing a Role by Joan Schirle
The Alexander Technique and the Performer by Joan Schirle