ALEXANDER TECHNIQUE CLASSES IN LOS ANGELES
FOR ACTORS, SINGERS, AND DIRECTORS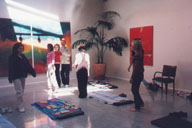 Ongoing Alexander Technique classes in Los Angeles are offered throughout the year, focusing on the application of the Alexander Technique to movement, voice, and character development. Open to beginners as well as professional level actors, the classes are presented in a small group setting to give plenty of individual attention. This training of self-discovery and preparation includes the following specific areas of work:
Connecting to the body through awareness
Recognizing the force of habit
Improving movement by learning to organize body relationships
Understanding Means and Ends
Making clear choices of intention
Infusing direction in our thinking and movement
Improving breath coordination and vocal quality
Freeing impulse and response patterns
Applying the Alexander Technique to monologues, sonnets, songs, and scenes
Learning to develop characters physically
ALL CLASSES ARE TAUGHT BY JEAN-LOUIS RODRIGUE and KRISTOF KONRAD
ALEXANDER TECHNIQUE GROUP CLASSES AT THE ODYSSEY THEATRE ENSEMBLE
Seven-Week Sessions
January 13 – March 3, 2014
Mondays, 7:00 p.m. – 9:00 p.m.
January 17 – March 7, 2014
Fridays, 10:00 a.m. – 12:00 noon
Location
The Odyssey Theatre Ensemble
2055 South Sepulveda Boulevard
Los Angeles, CA 90025
Registration
Kristof Konrad: knorthpole@yahoo.com
ALEXANDER TECHNIQUE GROUP CLASSES AT THE HOWARD FINE ACTING STUDIO
Seven-Week Sessions

April 9 – May 16, 2014
Wednesdays, 10:00 a.m. – 12:00 noon

Location
Howard Fine Acting Studio
1445 North Las Palmas Avenue
Los Angeles, CA 90028
Registration
Howard Fine Acting Studio: info@howardfine.com or (323) 962-3188