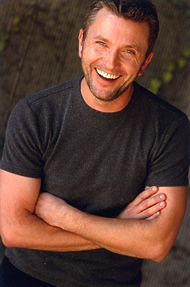 Born in Poland, trained as an actor at the National Dramatic Academy in Warsaw, Poland and the Alexander Fersen Academy in Rome, Italy. While in Poland, he studied and worked with theater and film masters Jerzy Grotowski and Andrzej Wajda. In the USA he worked with directors Kenneth  Branagh, Ron Howard and Roland Emmerich.  For the past ten years he has successfully worked in film and television in The United States and Europe. Some of his credits include: ANGELS  AND DEMONS, INDIPENDENCE DAY, HOTEL CALIFORNIA, NIKITA, SCANDAL,  UNDERCOVERS, E-RING, ALIAS,  OPERATION SAMUM, THE UNIT, THE AGENCY, JAG, GILMORE GIRLS  and meny others. Konrad discovered The Alexander Technique while working in USA. Its effectiveness in improving the level of acting and coping with stress associated with performing and every day life fascinated him. He spent three years training as an Alexander teacher with Jean-Louis Rodrigue and others at Alexander Training Institute of Los Angeles, where he got his certification.
Kristof Konrad has taught for the Berlin International Film Festival, Verbier Festival & Academy in Switzerland, and the UBS Verbier Youth Orchestra. He is teaching Intensive Acting in Film and Alexander Technique Workshops in: New York, Los Angeles, Milan, Berlin, Toronto and Vancouver. In the U.S., he is collaborating with Jean-Louis Rodrigue at the Larry Moss Studio, Howard Fine Acting Studio, teaching for the UCLA Extension Entertainment Studies, Theatricum Botanicum, and Media Access. He recently worked with the cast of "KING LEAR" and "THE SEAGULL" of The Royal Shakespeare Company, helped Sharon Lawrence to create Vivien Leigh in "ORSON'S SHADOW", Pasadena Playhouse, "ELECRICIDAD", Mark Taper Forum and the artists of Cirque du Soleil's "KA" on improving performance and preventing injuries.
In FILM, recently, he helped Lymari Nadal to embody EVA, the love interest of Denzel Washington in AMERICAN GANGSTER.
Past and current students include:  Kenneth Branagh, Cobie Smulders, JoBeth Williams, Eric Dane and Sharon Laurence.
Mr. Konrad earned his M.F.A. in Theatre in the field of Dramatic Acting from the Alexander Zelwerowicz National Dramatic Academy in Warsaw, Poland. He maintains a private practice in Santa Monica, CA and West Los Angeles. He is an active member of the American Society for the Alexander Technique (AmSAT).
08/11
http://www.imdb.com/name/nm0465311/